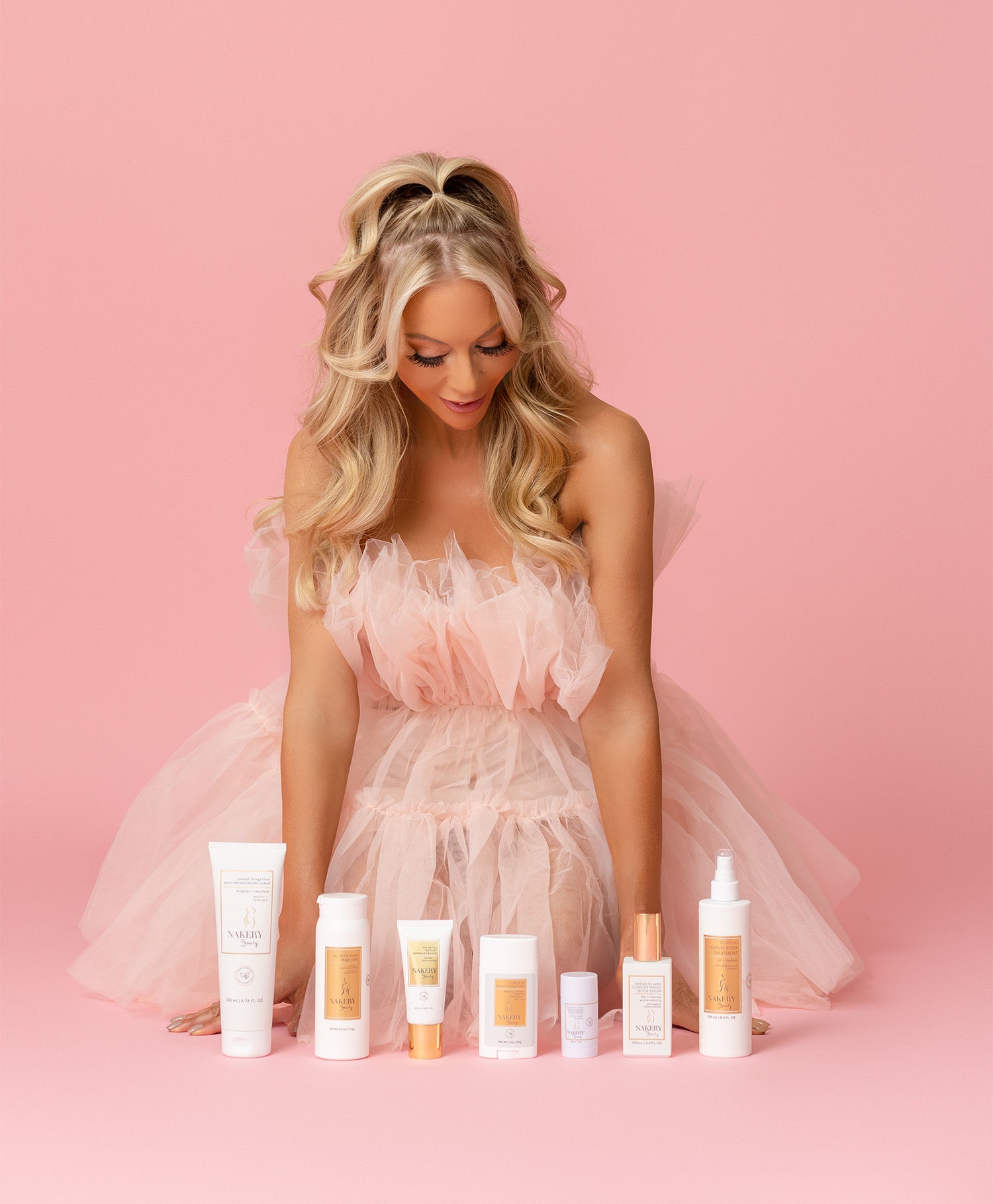 OUR STORY
Nakery Beauty was inspired by our founder, Liz Folce, and her passion for listening to the needs of women across the globe. We're bringing you clean, highly effective products that celebrate the feminine body. We're here to help you feel good naked in front of the mirror and confident in life. 
Uncover Ingredients for Real Solutions
We have the right ingredients for the right formula for the right
part of the body to create powerful transformations.
SAPPHIRE 3X PEPTIDE COMPLEX
Contains 90 times more effective + concentrated gravity – fighting peptides
Plumps up + restores skin volume
targets lines + wrinkles
PURE ARCTIC MICRO-ALGAE
Purest form of red algea from the volcanic island of Iceland
REPAIRS + RESTORES SKIN ON A CELLULAR LEVEL
ACAI FRUIT EXTRACT
HELPS PREVENT SIGNS OF AGING + LOSS OF MOISTURE
WORKS TO REPAIR DAMAGED SKIN
HIBISCUS FLOWER EXTRACT
VITAMIN C POWERHOUSE
REDUCES COLLAGEN BREAKDOWN
SUPPRESSES WRINKLE FORMATION
Aloe Vera
Instantly Soothes
the skin
Provides anti-inflammatory + cooling properties
Caffeine
Works to Reduces the look of cellulite & dimples
Helps with puffiness & microcirculation
Antioxidant rich
Sunflower Seed Oil
Boosted with Vitamin E + fatty acids
strengthens skin barrier + maintains hydration
Tri-Hyaluronic Acid
Multi-level intense hydration (balance of high, medium, low)
Provides healthy glowing skin
Plumps up dehydrated and dull skin
Sugar Cane Squalane
purest form of squalene derived from sugar cane
increases cell turnover + boosts elasticity
soothes redness and maintains hydration
Niacinamide
Powerful form
of Vitamin B3
Treats hyperpigmentation and protects against sun damage
Minimizes redness, blotchiness, fine lines & wrinkles
Shea Butter
Unique Ultra-concentrated form
soothes dry,
damaged skin